The Aliquippa Works,
J&L Steel
In 1878, James L. Laughlin, a co-head of J&L Steel, the largest private independent steel company in the world, began exploring Central Florida with a group of friends. Hunting at the turn of the century was optimal in Florida, and it was a new, exciting destination. In 1883, the men brought the railroad with them, and with that development, their families followed. Laughlin traveled the world with his wife, Sydney Page Laughlin, and both felt that the view from the north of Lake Minore was the most beautiful place on the planet. It is on this site that they chose to build "Sydonie," far from the bustle and industry of the steel mills along the banks of the river in Pittsburgh.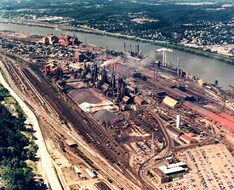 Grosvenor Atterbury, Design Architect
Completed in 1904, Sydonie was designed by famous architect Grosvenor Atterbury and is the only example of his work in the State of Florida. Fashioned after Alhambra Castle in Spain, she is in the style of Mediterranean Revival. Additional Atterbury designs include John D. Rockefeller's house in Maine (demolished) and Forest Hills in Queens. Atterbury remodeled NY City Hall, and the firm he worked for remodeled the East and West Wings of the White House. Concerned with the welfare of everyday Americans, Atterbury came up with the concept of "prefab" so that houses could be affordable for everyone.
Edgar Vignuer Seeler, Architect
Edgar Vignuer Seeler, the son-in-law of the Laughlin's, was hired by Atterbury to build this grand estate with Frank Roberts as the engineer. Seeler was a renowned Philadelphia Architect. Sydonie's commencement date is unknown, but according to the writings of grandson James Laughlin, there was an original structure built in the 1880s that was merely meant to be a hunting lodge. The Sydonie of Atterbury's vision was built up and around this existing building according to his spec sheets. A fire at the county level destroyed the records of this grand estate a few years ago.
The original design for Sydonie included twenty or more outbuildings requiring the help of 49 gardeners, countless maids, butlers, carpenters, and more to maintain. It is said that to run Sydonie, her citrus, dairy, and poultry facilities in 1904 cost a whopping $80,000 a year. Andrew Carnegie and other dignitaries visited Sydonie, and it is rumored that Thomas Edison designed the irrigation grid.
James L. Laughlin died on Oct 19, 1919. His wife Sydney maintained Sydonie until her death eight years later. Their five children handed over their shares of Sydonie to their sister Martha, and it was upon her death that Sydonie left the Laughlin family for the first time. The Laughlin heirs sold Sydonie to a Mr. Eugene Speers around 1942. He only owned Sydonie for a year, just long enough to decide which rare specimens planted on the estate could fetch the most money. After selling all the rare plantings, Mr. Speer left hastily, having made back all the money he paid for Sydonie in the sale of the plants and a fifty-acre pine forest that he cut down on his way out.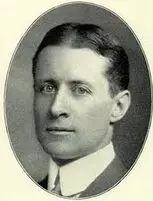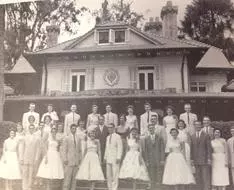 Hampden DuBose Academy
Students at Sydonie (Ewell Hall)
In 1943, Mr. Speer sold Sydonie to Dr. Pierre Wilds DuBose, who started the Hampden DuBose Academy, a Christian School, which still occupies Sydonie's barns and powerhouse today. From 1943-1980, Sydonie was renamed Ewell Hall by the school and was a boarding house for countless girls. The Reverend Billy Graham's daughters lived there, and he visited Sydonie numerous times. Sydonie's roof took an active role in guiding aircraft as a landmark from 1943 to the end of WWII. From 1980-1997, Sydonie sat empty as the school transitioned from a boarding school to a day school and no longer needed the mansion to house girls.
A Eucalyptus Tree Resting on
The Kitchen Wing
In 1997, Dick and Carla Durante bought Sydonie and painstakingly restored the 42- room mansion one room at a time and saved her from ruin. During her years sitting empty, trees had fallen through roofs, and nothing was maintained. Dick was an expert carpenter and had a career in construction. Carla had been in Interior Design. They were perfect for the enormous task. Their efforts and the aid of countless volunteers saved Sydonie from ruin and preserved her for future generations.
In April of 2014, Clark and Amy Colyer Frogley bought Sydonie with the idea that she needed to be shared and turned into a museum. Money from tours, weddings, and events will hopefully offset maintenance fees going forward.
Thank you for considering a visit to this great piece of American history. By visiting, you are helping to preserve Sydonie for future generations.